Different Styles
Please see the Available Carts page for carts that are available right now.
To ORDER a cart just email me at mgamotis@gmail.com and tell me the style # and a phone # that I can reach you at to finalize the order.
Unique cart are $100/+ more whether in Original Condition, Cleaned, or Fully Refinished due to their rarity and to reserve them for customers who want a cart that is a more rare style. They are unique either in size, age, style and/or dimensions. Pictures of UNIQUE carts are avail upon request.
The carts pictured below are in Original Condition.
Please read over the Shipping Page, Current Specials Page, and To Place An Order page.
NOTE: ALL the carts below are in ORIGINAL CONDITION and have also been sold. You are looking at the Styles of cart that we still have available. I will gladly send you pictures of a particular style with the qualities of what you are looking for. Please email or call me for pictures of your exact cart.

NOTICE that the below styles differ mainly in wheel, caster, and corner piece design.
We suggest that you disregard the wood characteristics (paint/flaws/cracks etc) because that varies between every cart within each style.
The dimensions vary slightly between individual carts within each style but all wheels and metal hardware will be the same for each style.
When purchasing a cart you can make requests for particular qualities that you like and we will do our best to pick out a good cart that fits your requests. However, if you want to pick out the exact cart from one of the styles listed below and have pictures sent via email we will gladly send them to you.
Your cart that you will receive will have ALL the ORIGINAL parts of that particular cart with no missing boards, wheels, corner pieces, and will be very similar to the cart pictured under each style #. It is our policy not to replace boards, bolts, nails, wheels etc. The only modification that is sometimes made is we have to hammer a few nails in loose boards to prevent losing them in the shipping process.
STYLE # 1
Sorry currently out of inventory of style 1 very few ever found.
It has rubber on the wheels but is made out of steel and cast iron. It has a very slick/clean and contemporary look because of the lines and NO gaps between the boards also the top boards are very level with each other unlike most other styles/carts. Weighs approx 200lbs but rolls very easily and quietly. If you have hardwood floors there is No need to rubberize the wheels.
Sharpest looking cart when fully refinished.
all metal
Standard pricing despite its unique character
$399 Original condition
$549 Cleaned
$744 Fully Refinished
48x24x17.5 Total length with metal is actually 53"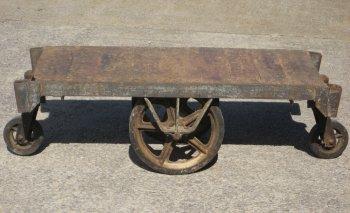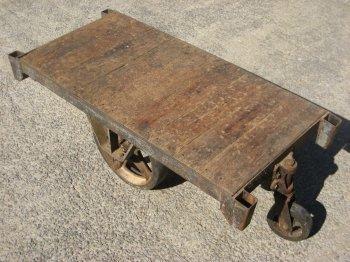 Style # 2
all metal
48x24x16 wood dimensions, overall is approx 53 length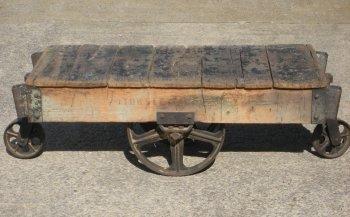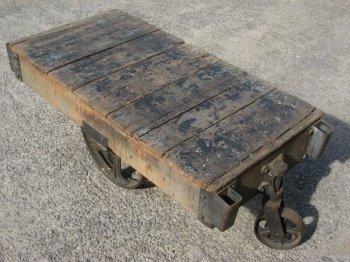 Style # 3
SORRY SOLD OUT
Hopefully will find some more in the next couple months
metal and cast iron
48x24x16
total with metal is 53x24x16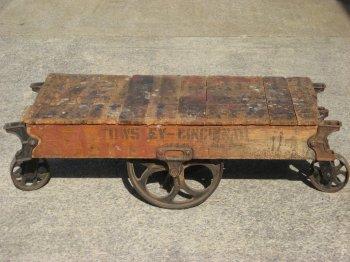 Style # 4
Only a couple left
Cool corners
all metal
48x24x16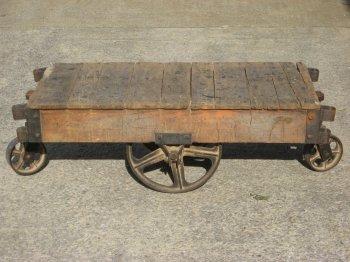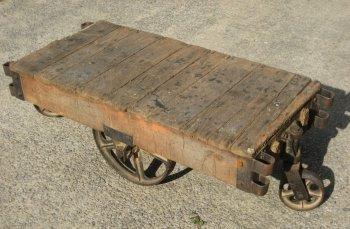 Style # 5
We have style 5 in two varieties of corners. Safe corners and Non Safe corners (as someone once called them) Meaning the corners dont protrude out the ends so safe (pictured below) or they are non safe meaning the corners protrude out the ends. (seen on the style 6 pics below they have the same corners)
All cast iron
Flower Motif wheel design
48x27x15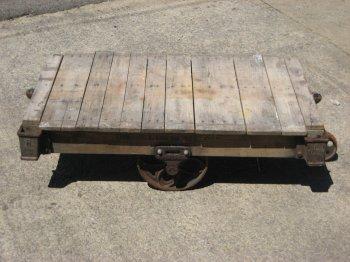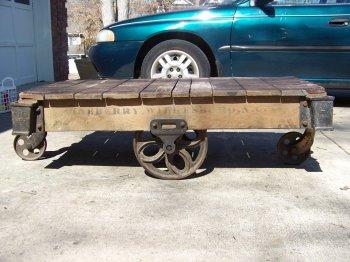 Style # 6
Most popular style because of the height and its all cast iron
Style 6 is our tallest cart currently in our inventory
Available with the same safe corner pieces as style # 5 and as pictured below of the non safe corners
Below is a picture of less safe corners meaning that they protrude out like most of the other styles.
(Same style Restoration Hardware uses to advertise, however, NOT necessarily what you will receive on your door step. When you buy from us you know that you are truly getting this style and you will always see pics of the final condition before we ship it.
All Cast Iron
48x27-30x16.5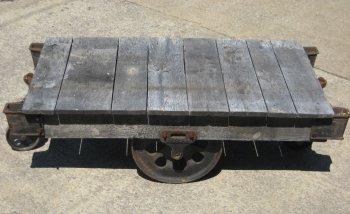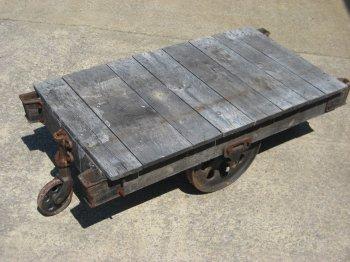 Same style #6 as above but with "safe corners" Note this will be the type corner you receive due to our current inventory and demand.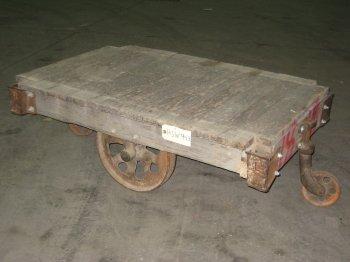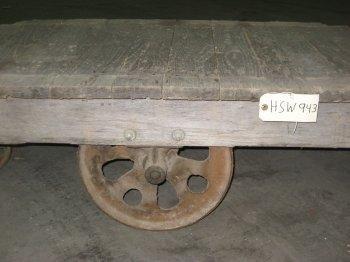 NOTE THE BELOW CARTS ARE JUST EXAMPLES OF SOME UNIQUE CARTS THAT HAVE BEEN SOLD.
Sold. unique because end caster's bracket encases the end of the caster's shaft. 48x28x16.5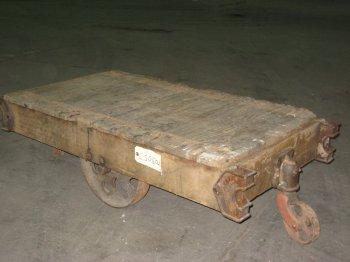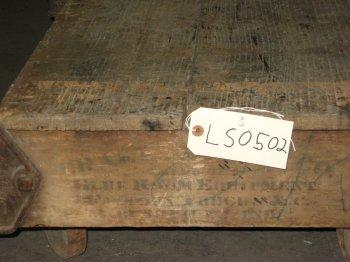 Above cart has SOLD and but for your reference below it is Fully Refinished.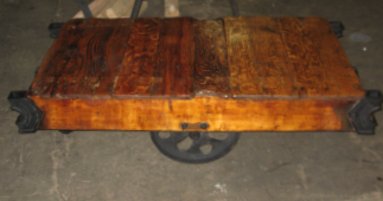 ========================================================================================================
sold 60x28x17
unique because of length 60 verses normal 48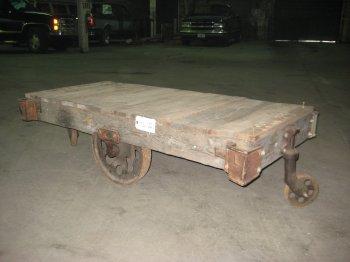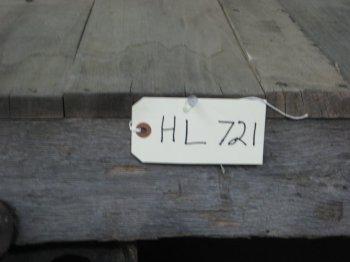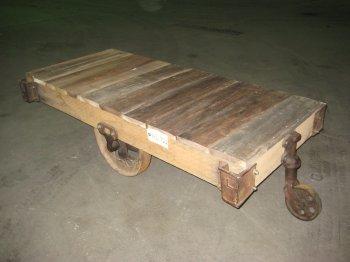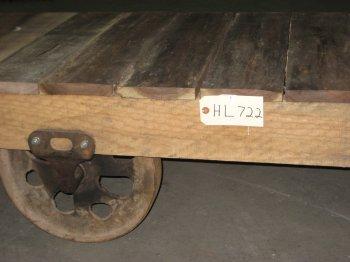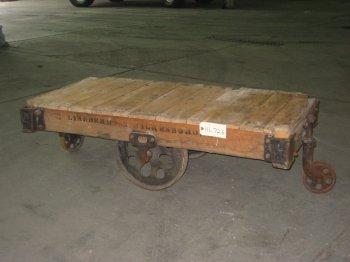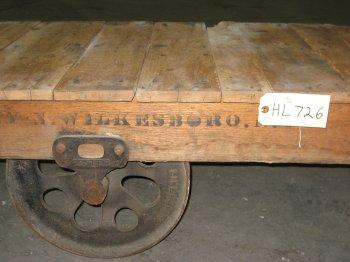 Currently sold out of partials unless seen on the Available Carts For Sale Page
Partial Carts: When available, Partial carts. Partial simply means that they have all top boards missing. We offer this type of cart because we do NOT buy new "old" boards and to make them whole. We recommend that you can do this and save some $ or you can just put a piece of glass on top (like Restoration Hardware sells).