What sets US apart from ALL others who sell Antique Factory Carts:
1. You know the Exact cart (i.e. board quality, shade, style, etc.)you are getting, Unlike the other larger companies (Restoration Hardware).
2. We are a small company who for over 10years (2008-2018) specialized in these factory carts. This was our only item we sold. Now we also sell other unique furniture such as slab tables etc.
3. We have been selling and refinishing these longer than any other business including internet stores.
4. We offer Leveling and Stabilizing so your cart does not roll and tilt from end to end.
5. You have many different Styles to choose from.
6. You know the exact dimensions of your cart.
7. We send Pictures after refinishing your cart, before shipping to make sure you are happy with it AND will resand and stain again if not 100% satisfied!!!
8. You can choose the Stain/Shade selection to match your floors/furniture style.
9. We offer multiple Metal refinishing options.
10. We will alter the size/dimensions to meet your exact dimensions to better fit your room.
11. We offer optional Satin, Semi Gloss, and Gloss finish on the wood and metal.
12. We can personalize/customize your cart to your specifications.
13. Customer service superior: We are available after normal business hours/weekends. We are willing to spend time with you via phone or emails answering any questions and making sure your cart is EXACTLY what you want and are expecting. We have had great success with repeat/referrals from customers which is our goal.
14. Our quality of refinishing and attention to detail unlike mass refinishex carts and reproductions. We can tell you how others have refinished theirs and why theirs might be cheaper. Bottom line is the old saying "you get what you pay for" this is very true for our more economical competitors.
15. We offer 4 shipping options for you to choose from to help you save on shipping.
16. We offer wholesale pricing on orders of 5 or more carts. This does not include partial carts at this time.
17. ALL parts of each cart are ORIGINAL to that cart. Do not be fooled by newly stenciled names on the sides of carts, new bolts/nuts, new boards, and newer corner pieces/wheels. There are a couple individuals and a couple larger unnamed companies who are selling REPRODUCTIONS from India etc. Our carts are truly AUTHENTIC ANTIQUES the only part of the cart that I might add is old nail(s) to hold down a loose board(s) and those nails are actually from other carts that we have taken apart and called partials.
18. Finally we offer Cart Art. Hand painted Original artwork on top of your cart by Larry Rackley of Yellowfingallery.com He is an excellent artist who paints a wide variety of art at a very reasonable price. He can take any picture and replicate it to the size/coverage you desire. We then apply the final coats of finish to protect your artwork. Please contact Larry @Yellowfingallery.com or Phone: (205) 283-6596 or (205) 253-5868 Email: contact@yellowfingallery.com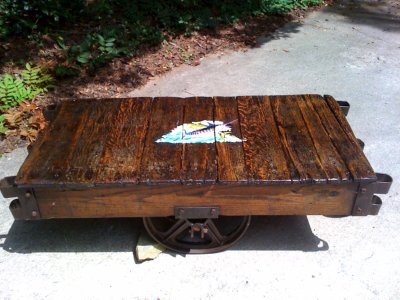 Marlin and Yellow Fin Tuna PERFECT conversation piece for your beach house or something to make your beach condo a one of a kind!